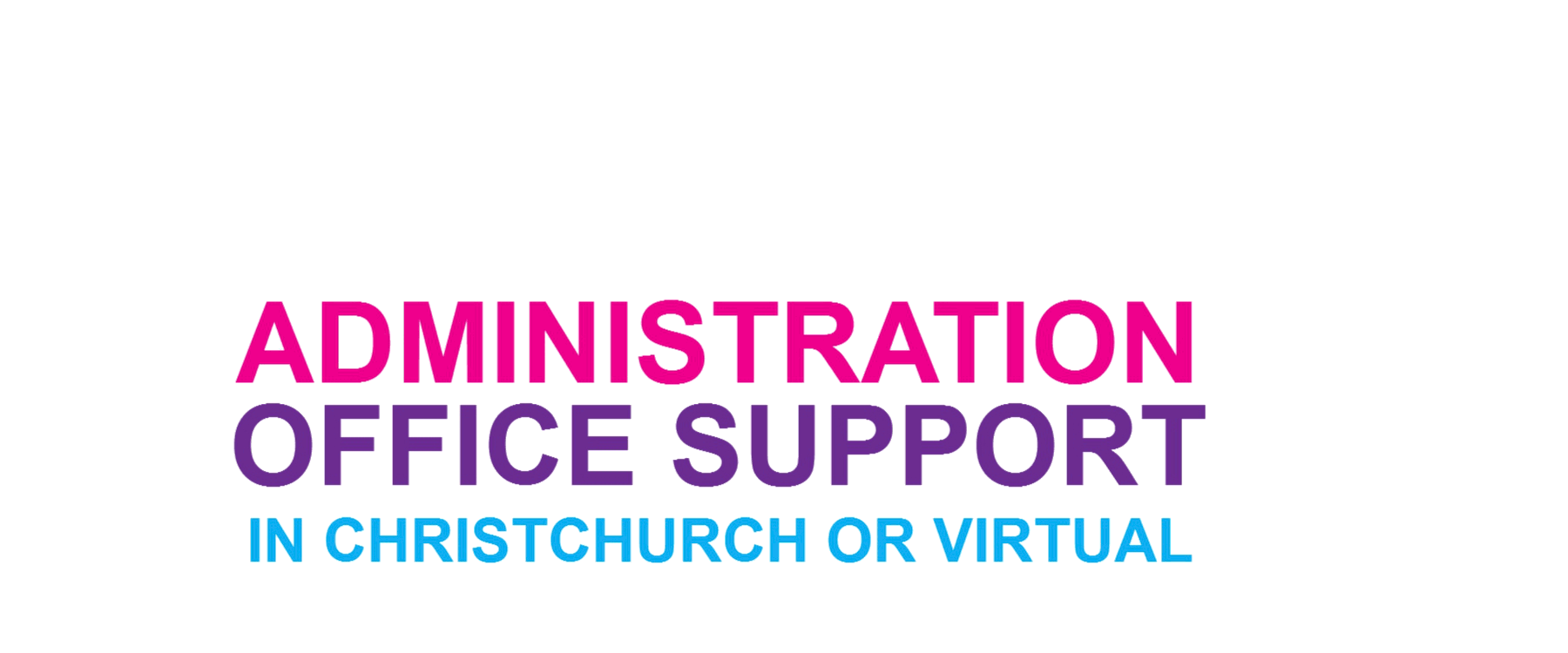 Sometimes there is just too much work...
Administration or Executive Assistant Support in Christchurch or Online Anywhere in New Zealand
Have you ever heard of a Virtual Assistant?
A Virtual Assistant is an independent self employed professional offering services either onsite or online to businesses. With new technology it is possible to help with all things marketing, communications, website design and administration remotely, but I am also available on site, in your office, in Christchurch.
I am an alternative to a temp you hire from a recruitment agency. I have my office set up at home to assist businesses with their administration, marketing or digital marketing tasks. I can also come into your office and help when one of your staff members is away.
I am available to help for short-term or long-term temping positions in Christchurch or remotely, online, anywhere. I am just an email, a phone call or a Skype conversation away.

I am available locally to help you during times of immense pressure due to staff illness, shortage or holidays. I can step in when your staff member is on maternity leave, in hospital or on an overseas trip. I learn very quickly and am experienced in most office positions, so can "hit the road running" to keep your administration office running smoothly and without any interruptions.
Contract work without the responsibility to hire staff permanently, which gives you peace of mind and is affordable and efficient.
I am highly experienced in office work with intermediate to expert skills in the Microsoft Office Suite, Sharepoint and Social Media Community Management.
My hourly rate for administration services is $30 an hour and I am available for assignments or project work. I can come into your office sporadically or regularly to help with typing, website updates, personal assistant services, etc. or can help your small business from my home office, if this is more convenient. There are no paid breaks nor holiday or sick pay for you to pay, which works out much more effective and efficient than having an employee.
I have mainly worked in positions that require high levels of confidentiality (e.g. the Office of the Auditor General/Audit New Zealand) and other government organisations that deal with sensitive information.
I have worked for
Inland Revenue (in recurring assignments over the years),
Waikato District Health Board,
Canterbury District Health Board,
Audit New Zealand,
the University of Waikato,
Livestock Improvements Inc,
Waikato Regional Council (formerly Environment Waikato).
Positions I am experienced in and available for an immediate start
Temping assignments, short or longer term, welcome
Executive or Personal Assistant to Directors and Executives
Diary management
Email management
Preparing extensive agendas
Taking minutes during meetings
Event management, including booking management
Project management
Report formatting at a high standard
Relationship building with main stakeholders
Health & Safety knowledge
Customer Service Consultant and Reception
Taking phone calls and conversing with customers
Reception duties  with a high level of professionalism
Very well presented
Excellent communication skills
Experienced in liaising with other sources to resolve any customer concerns and questions
Empathic to customer queries and a keen interest in understanding their needs
Quick relationship builder
Administration skills at a high level
Marketing or Communications Assistant
Very experienced in online and traditional offline marketing methods
Web site updating knowledge in Sharepoint and WordPress
Experienced in dealing with printing companies and other marketing companies to incorporate every element into a campaign
Excellent flair in designing basic graphics, such as logos, headers and instruction sheets
Knowledge in creating a good brief for a specialist designer to follow on from
Customer centric
Administration Assistant
Experienced in all administration processes
Fast and accurate data entry skills
Experienced in the tasks involved from the mail room to the executive and management suite
Fast learner of new software
Almost on the look out for improving processes and efficiency
Friendly and courteous to all staff members and all levels of units
Experienced also in scanning of documents, formatting and creating cohesive reports
For temporary assignments or ongoing help give me a call today!
Call 027 600 2100 or email Heike@HeikeMiller.com with your requirements.