Over 100 Social Media/Networking combined endorsements on LinkedIn
Web/Digital/Online Marketing combined endorsements on LinkedIn
Strategy/Strategic Thinking endorsements on LinkedIn
Blogging endorsements on LinkedIn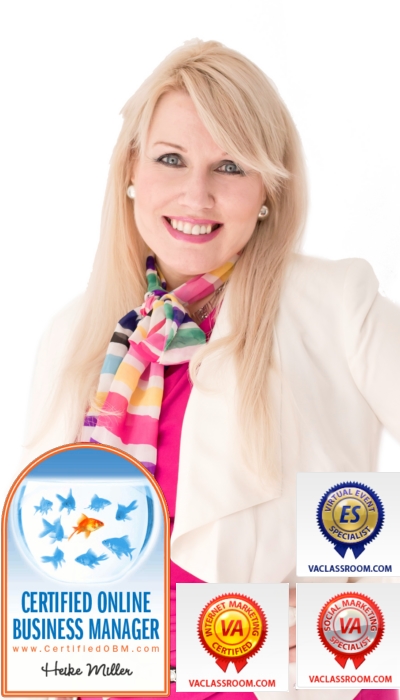 Heike Hunscher (formerly Miller)
GradDip PR Waikato (2003), PGradDip BusAdmin (Com) Massey (2007), PGradDip Mngt St Waikato (2009)
Hi, my name is Heike Hunscher (formerly Miller) and I have been involved in online marketing since 2008. I am passionate about helping small businesses with their online presence, communications, reputation management, ecommerce, and of course, social media.
I was born in Germany and started my professional life with a three year business training as an Industriekauffrau (loosely translated as Industrial Business Management). 
Twenty years ago I moved to New Zealand and settled first in the Waikato and four years ago I moved to Christchurch to join my partner here.
I am passionate about all things small business marketing and with the help of my postgraduate Business and Communication Management and dedicated Internet marketing training with mainly US providers I became specialised in online/digital marketing.
Social Media was, of course, a part of online communications and I began offering online marketing services to clients from my home office. In 2009 I got certified as an Online Business Manager, a certification developed by Tina Forsyth and Andrea J. Lee.
I am trained in the full suite of online marketing, from business planning, list building, social media plus the technical bits from shopping cart installation to WordPress web design.
I greatly enjoy helping people with their passion and how to successfully turn it into their online dream business.
I also help existing small businesses add digital marketing into their marketing mix and attract customers from all over the world.
I also run an shopify ecommerce shop selling imported products.
Personally, I love animals in all shape or form. I am the one responsible for introducing the German Riding Pony to Australasia by introducing Davidoff by Dressman (7 times European Dressage Champion) and Mona by Merafic to New Zealand in 1995.
Quickly a "German Riding Pony bug" developed and nowadays many dedicated horse studs in Australia and New Zealand base their breeding on this type of sport pony as it is versatile in all performance disciplines, fun to ride for many children and teenagers and even big enough for many adult women riders.
I live with my dog, a rescue cat, my partner and his 10 year old son in Christchurch (New Zealand). Clayton is the owner of Electric Motor Repair (EMR), a successful motor repair workshop.
My professional achievements
Professional courses I have attended
Social Media Specialist 2014
Online Business Management
Product Launch Specialist
Internet Marketing Specialist 2014
Marketing Success with WordPress
Wordpress Design and Development
Social Media Skills Tune-up
Social Media Specialist 2015
Social Community Management
Traffic Geyser Internet Marketing
HTML Training for Internet Marketing
Video Marketing and Camtasia
Let's connect to discuss how I can help you have more time and money in your business. Let's find out about outsourcing your marketing tasks.
Contact me today!